Restaurants in Sims 4
Gameplay tips & tricks for restaurants in The Sims 4 game
Choose your topic: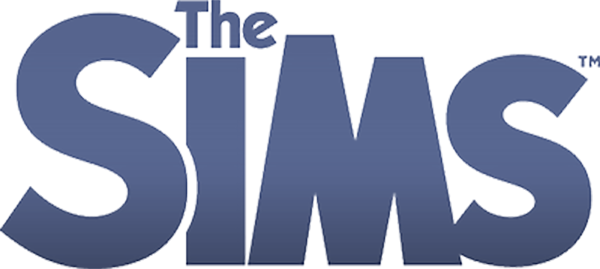 The Sims 4 | Owning a Restaurant
Before anything else...
What You Need to Know
Dine Out is an EA The Sims 4 game pack. Dine Out adds the option to add restaurants to your game and dine out at these restaurants with your Sims. Your Sim will also have the ability to purchase and manage restaurants.

You will need to purchase the Dine Out Game Pack to add restaurants and dine out options to your The Sims 4 game.
Build or Download a Restaurant
Where to find restaurants for your game:
Check your Library for Maxis restaurants that would be added there when you purchased the Dine Out Game Pack.
Check the Gallery for restaurants that other players have made. Save/download these to your Library, then place them in your game.
Note: For options #1 & #2, when you place the restaurant in your game make sure you choose 'Restaurant' as the "Venue Type":

Build your own restaurant
You will need to assign the "Restaurant" Lot Type when building the restaurant:

Once you assign 'Restaurant' as the Lot Type a list of required items will appear. In Build & Buy you will also now see a new category, "Restaurant Items":

Example restaurant: (Click pic to view in gallery or download)

Purchase a Restaurant
Have your Sim purchase the restaurant in live mode:
With your active Sim choose to "Buy a Restaurant" > your Sim and household will travel > navigate to the restaurant you want to purchase, click on it, and choose to purchase the restaurant:

You will need additional funds to get started. Immediately after purchasing the restaurant you'll be asked if you want to transfer funds to the restaurant. Funds can be transferred to or from the restaurant at any time from the venue location or from the Sim's home lot:

Save your game.
Restaurant Settings
Choose or edit your settings:
Certain settings will have a default value, but you will want to go through and adjust settings to your liking. If your restaurant was a Maxis pre-made restaurant or if you downloaded it from the Gallery, some additional settings may already be set. You can also change these to your liking.
Choose Price Markup, Advertising, Uniforms, and Customer Dress Code:
   
Employees
How to hire & manage your employees:
You will need a minimum of one host, one waiter/waitress, and one cook to open your restaurant. If on any day one of them does not show up and you don't have these minimums you will not be able to open your restaurant.
When you open your restaurant you will only be allowed to hire one host, one waiter, and one cook to open your restaurant. You will be able to unlock additional employees via "Business Perks".
To hire employees, select "Manage Employees" > select a cook, host, &/or waiter > in the confirmation popup click the checkmark.
(Remember that initially you will only be able to hire one employee in each category – in the example below more employees have been unlocked, so your options will not look the same.)
 
Interact with the staff.
Encouraging them goes a long way.
Don't over work employees.
Pay for training.
Hire additional staff as soon as you possibly can.
Don't forget to give them raises.
Don't keep them working too long or they will be unhappy. A workday should only last 8-10 hours… Occasionally12-hours if you want to push it, but watch carefully for exhaustion and frustration.
TIP: If you're having issues with an employee, get the employee's name and hunt them down in Manage Households. What are their traits? If they have bad traits for the job you could change their traits or fire them and hire someone else. I've sometimes put my staff all into a furnished home.
Manage Your Restaurant
Keeping everyone happy and juggling, well, a lot…:
Your sim will be the manager of the restaurant, and it will run better if they're on-site. I oftentimes even take a couple of my Sims to the restaurant to manage things. The manager will have greeting and additional interactions that come up which will increase the quality of the customer's experience. As you do better, you earn more Business Perks/Perk Points, and can hire additional staff or add other features or interactions that will enhance the restaurant's quality, efficiency, and customer experience:

Start off slowly. Your staff will slowly increase in skills, and you can gradually enhance your offerings and workload. Keep the menu a couple of tiers in skill below the least experienced cooks' skill level until they're top-notch. Your customers will be far more impressed with high quality food that requires a lower skill level than poorly prepared fancy food.
Help with clearing tables and keeping things neat.
Make sure you're not overloading the staff. Greatly reduce the tables available at first and slowly increase them as you can add more staff. For instance, I think each waiter can only handle 3-5 tables. You will have to test to see. You will need additional cook(s) if you increase tables, also.
Keep reasonable hours. As related above, if you stay open too late, employees get tired and unhappy – or worse.
Customers enjoy a pleasant atmosphere. Add a mic or karaoke machine and have your Sims sing or play an instrument if they have skill, add speakers for music, a fireplace, etc.
Review your financial report:

So what does that mean? Not necessarily as much as you think. Your restaurant will struggle at first, and it will take a while to turn a decent profit. Make efforts to pay employees well, promote them, be fair, and nurture your business. It takes a while to get established.
Running a restaurant well is a lot of work for quite a while, but eventually they all improve in skills and you get the swing of balancing things also.
Restaurant Ratings
Your star ratings are important to the success of your restaurant. If your star ratings are high, you won't need advertising, and you will be in no short supply of customers.
How can you raise your ratings?


Impress the food critic. There will occasionally be a food critic that will visit your restaurant. You will be able to tell who they are by a special star over them (with a ribbon under it). Make sure you treat them well and prioritize everything about their service. Give them a free course. Check on them, Check on the progress of their meal. Make sure dishes are cleared quickly, service is fast, food is great, and the employees and atmosphere are pleasant… to the best of your ability. If things don't go as well as you'd like, no worries. You'll get other chances… eventually.
Keep your customers happy. Cater to them, check on them, and keep the atmosphere tidy and pleasant.
Satisfied and skilled employees go a long, long way.  This is where investing in training, encouraging employees, and providing a positive workplace pays off. If your service is top-notch, your customers will be impressed.
Serve high quality food. Critics and customers will be far more impressed by a simpler dish that is prepared well.
Invest in a great environment. Make sure your environmental rating is high so your customers are impressed and in a good mood. Add a fish tank, fireplace, karaoke machine or mic or instrument that you can direct your skilled Sim to play or sing at. Get creative. If your customers are enjoying their atmosphere your chances are better that they will be pleased with their dining experience in general.
Sell Your Restaurant
To sell your restaurant in Sims 4…
Have your Sim who owns the restaurant travel to the restaurant > Click on the "Restaurant Settings" icon > Click the "Sell this Business" icon (price tag) > Read the details and press the "Okay" button: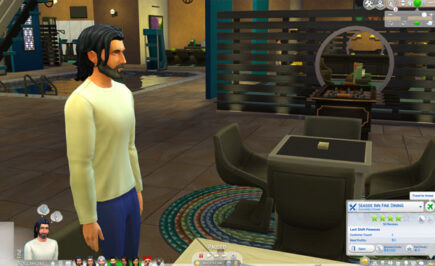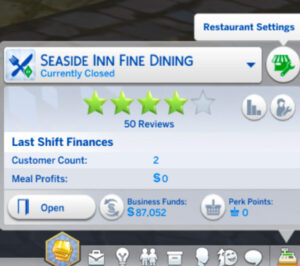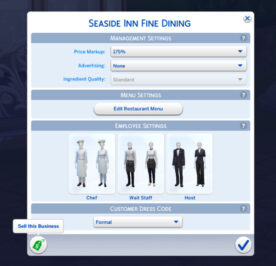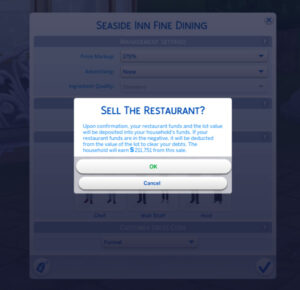 Restaurant Tips & Tricks
A few things I learned along the way…:
Lock the kitchen to customers or they may pester your chefs.
You may want to add a separate employee bathroom with a door locked to customers.
Don't put any tables in a break room (or locked area) or they may count as a restaurant table that the customer cannot reach. Makes for unhappiness.
I usually hire one more waiter and one more cook than I can get by with. This gives some flexibility if one is slacking off a bit, or for the occasional no-show. (Sorry – kind of repetitive of the above points.) 
Save your game before you open the restaurant. If you have a no-show employee, you will have the option of exiting the game without saving. Then re-enter and try again. Things are usually normal after doing this. (In other words, the no-show shows up.)
Once the staff and restaurant are running well, you can open the restaurant from the home lot and not even be on site. But you should monitor the restaurant. Sometimes you'll get a message saying your restaurant is losing money. Usually that means you should take your Sim on-site to manage the restaurant.